LESS THAN 15 MILES FROM THE DELLS

REEDSBURG VAPE STORE- 2027 E MAIN ST
( HWY 33 ) (608) 415-0690

ON THE EAST SIDE BETWEEN CULVERS AND
KWIK TRIP NEXT TO THE UHAUL TRUCKS.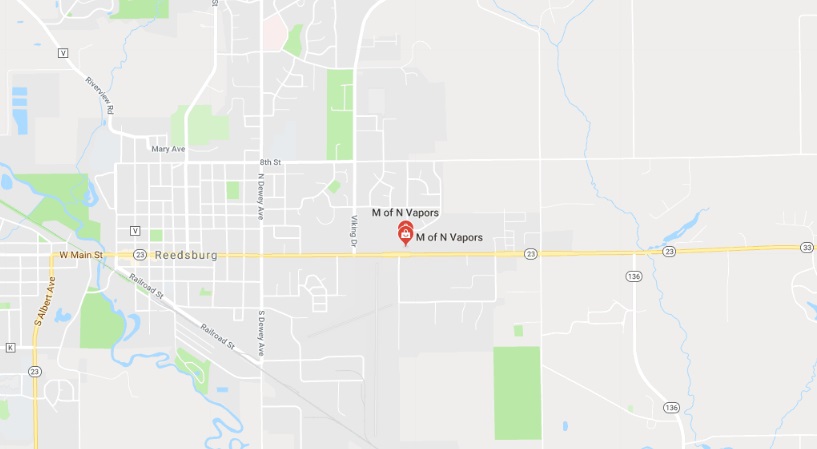 NOW WITH 4 LOCATIONS!!!!

BARABOO VAPOR STORE- 830 HIGHWAY 136
PHONE (608) 678-2321

LODI VAPE SHOP- 103 LODI ST
PHONE (608) 592-0700

SUN PRAIRIE VAPE STORE - 1025 EMERALD TERRACE (608) 318-2020


REEDSBURG VAPOR SHOP:
Sunday - CLOSED - Baraboo Store is OPEN
Monday - 11AM to 7PM
Tuesday - 11AM to 7PM
Wednesday - CLOSED - Baraboo store is OPEN
Thursday - 11AM to 7PM
Friday - 11AM to 7PM
Saturday - 10AM to 4PM

Phone : 608-415-0690


Reedsburg now has a Full Service Vape Shop.

You can have all your Vaping Needs taken care of
without the drive to Madison.

Stop in, check out our selection, meet our friendly
staff and maybe finally kick that cigarette habit.
We LOVE to help all smokers get off of tobacco.

Sharing information about Vapor and E-cigs,
and answering questions about this fast growing
industry is our Specialty.


The Vape Store that cares, The Vape Shop that has what you need, the Vapor Store near you, The Vapor Shop with variety , All your vaping needs,
Vape shop, Vape store, Vape near me, Vape, Vaping, vaping supplies, Vapor, Vapor shop, Vapor store,
Vapor near me, Vape supplies, Vapor supplies, E-Cig, E-Cigs, E-cigarette, Vape pen, Mods, Vapor coils,
E juice, E-juice, e liquid, E-Liquid, 18650, SMOK, Kanger, Eleaf, Sigelei, Innokin, Vaporesso, Tesla, Wismec, Nitecore, Joyetech, Kanger, Crown Uwell,
Baraboo, Portage Wi, Wi Dells Wi, Wisconsin Dells Wi, Lake Delton Wi, Reedsburg Wi, Merrimac Wi, Sauk City Wi, Devils Lake Wi, Prairie du Sac Wi, Pardeeville Wi , Wyocena Wi, Rio Wi, Columbus Wi, Beaver Dam Wi, Loganville Wi, Rock Springs Wi, Lavalle Wi, Wonewoc Wi, Plain Wi, Larue Wi, Witwen Wi, Denzer Wi, Spring Green Wi, Black Earth Wi, Cross Plains Wi, Mazomanie Wi, Arena Wi, Lone Rock Wi, Avoca Wi, Gotham Wi, Muscoda Wi, Richland Center Wi, Dekorra Wi,
open 7 days per week, open on Sunday, 53913- 53901- 53555- 53911- 53923- 53925- 53928- 53932- 53935- 53954- 53955- 53957- 53960- 53965- 53969- 53937- 53941- 53943- 53561- 53951- 53577- 53578- 53701- 53703- 53704- 53705- 53706- 53707- 53708- 53711- 53713- 53714-53715- 53716- 53717- 53718- 53719- 53725- 53726- 53744- 53503- 53506- 53507- 53526- 53533- 53535- 53543- 53544- 53553- 53565- 53580- 53582- 53595- 53581- 53929- 53944- 53948- 53950- 53962- 53968- 54618- 54637- 54641- 54646- 53910- 53927- 53920- 53930- 53949- 53952- 53953- 53964- 54960- 53926- 53939- 53946- 53947- 54923- 54941- 54968-hi Vape shop, Vape store, Vapor shop, vapor store, Vapor store near me, Vapor shop near me, Vape shop near me, vape store near me
Vapor Wisdells wi- Vapor Shop Wisdells wi- Vapor Store Wisdells wi- Vapor Lounge Wisdells- Vaper Wisdells wi- Vaper Shop Wisdells wi- Vaper Store Wisdells wi- Vaper Lounge Wisdells- Vapor near Wisdells wi- Vapor Shop near Wisdells wi- Vapor Store near Wisdells wi- Vapor near Lounge Wisdells-Vaper near Wisdells wi- Vaper Shop near Wisdells wi- Vaper Store near Wisdells wi- Vaper Lounge near Wisdells- Vapor supplies Wisdells wi- Vapor supplies near Wisdells wi- E cig Wisdells wi- E cig Shop Wisdells wi- E cig Store Wisdells wi- E cig Lounge Wisdells- E cigarette Wisdells wi- E cigarette Shop Wisdells wi- E cigarette Store Wisdells wi- E cigarette Lounge Wisdells- E cig near Wisdells wi- E cig Shop near Wisdells wi- E cig Store near Wisdells wi- E cig near Lounge Wisdells-E cigarette near Wisdells wi- E cigarette Shop near Wisdells wi- E cigarette Store near Wisdells wi- E cigarette Lounge near Wisdells- E cig supplies Wisdells wi- E cig supplies near Wisdells wi-
Vapor, vapor shop, Vapor Store, Vapor near, Vape, vape shop, vape store, vape near, e cig, ecig, e-cigarette, ecigarette, vaping, vaping needs, Vapor Reedsburg wi,vapor Mauston wi, Vapor Lyndon Station, Vapor Lake Delton, Vapor Wisconsin Dells, Vapor wi dells, vape needs, vape supplies, vapor needs, vapor supplies, vaping needs, vaping supplies, 18650 battery, 18650 batteries, tanks, mods, coils, ejuice e-juice, eliquid, e-liquid portage wi, briggsville wi, lavalle wi, loganville w,i plain wi Rock springs wi, north freedom wi, spring green wi, richland center wi, baraboo wi, wonewoc wi, Merrimac wi, dekorra wi, adams wi, friendship wi, butane, sauk city wi, prairie du sac wi, springfield corners wi, roxbury wi, middleton wi, madison wi, waunakee wi, dane wi, lodi wi, Wi Dells, Wi Dells Wi, Wisconsin Dells, Wisconsin Dells Wi, wisdells, wisdells wi, Lake Delton, Briggsville, Mauston, Lyndon Station, Plainville, Oxford, Endeavor, Portage, Union Center, Elroy, LaValle, Ironton, Cazenovia, Lime Ridge, Plain , Loganville, North Freedom, Rock springs, Reedsburg, Baraboo, Leland , Denzer, Witwen, Bluffview, Sauk City, Prairie Du Sac, Sauk Prairie, Lewiston, Dellwood, White Creek, Easton,
i, arlington wi, larue wi, denzer wi, hillpoint wi, leland wi, lime ridge wi, ironton wi, cazenovia wi, union center wi elroy wi, hillsboro wi, hub city, wi, yuba wi, waunakee wi, deforest wi, sun prairie wi, grand marsh wi, necedah wi